Overclocking the Xeon X5460 3.8 GHz on Abit IP-35 with 8GB OCZ Reaper RAM.
Here are the settings I use for my PC build.
A few tips:
The DRAM voltage is for OCZ Reaper (requires 2.2V) yours might be different.
If you apply the sticker yourself, be extra careful to place it in the correct position, see video.
Do not to bend any pins in the CPU socket when you cut the plastic tabs, video.
Try to keep the RAM frequency bellow the rated speed. Don't OC your RAM.
If the NB on the motherboard gets too hot when you overclock, it will need extra cooling. Too hot is when you can't keep your finger on it for a few seconds.
Increase the CPU voltage in small steps if you need to. I didn't really need to do this.
If you find this helpful, please, Subscribe to my YouTube channel. 🙂
Hardware
CPU: Xeon X5460 LGA 771
Mainboard(MB): Abit IP-35 LGA 775
RAM: DDR2 2GBx4(8GB) OCZ Reaper
Videos
Mod the LGA 775 Motherboard to accept a LGA 771 CPU
Xeon X5460 Running with 3 sticks of RAM, OCZ Reaper. Later I added 1 more RAM module totaling 8GB installed memory

On Abit IP-35, if the bios contains both LGA 775 and LGA 771 micorcodes, it will not work with Windows 8.1 and higher. Windows 8 and bellow still work even if the microcodes are for both platforms in the bios.
X5460 – my bios settings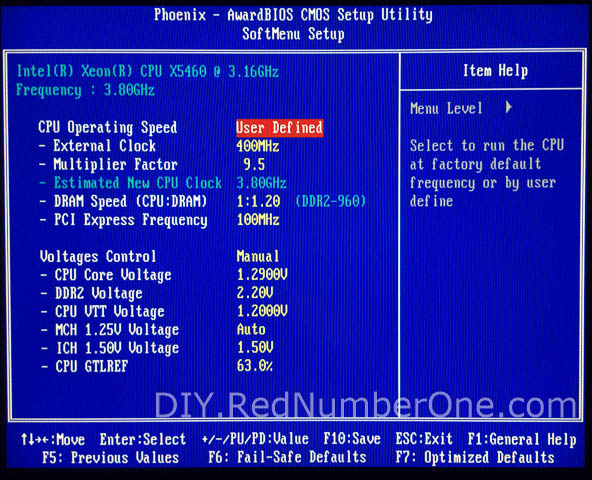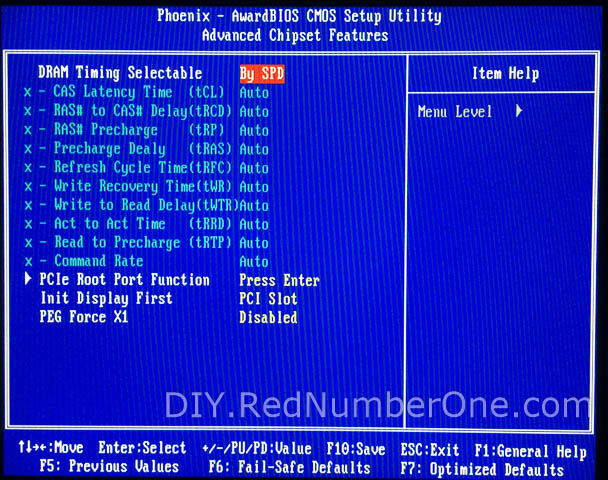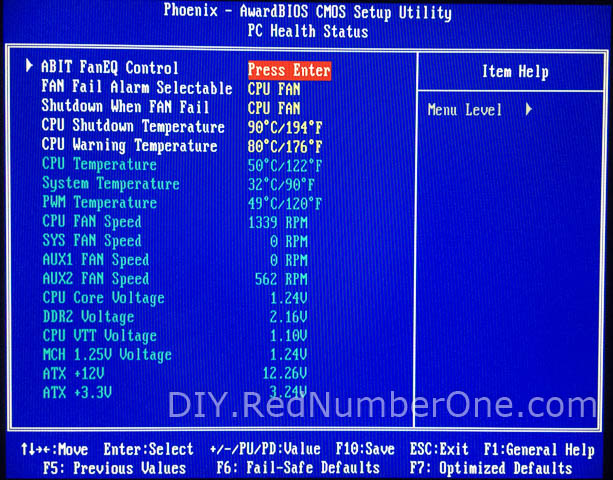 CPUZ
CPUZ details in idle and load at 3.8 GHz.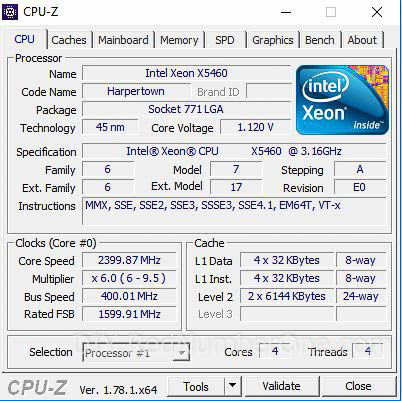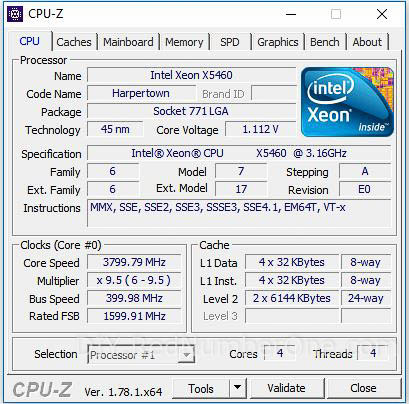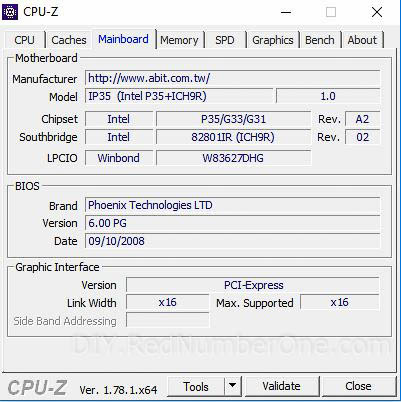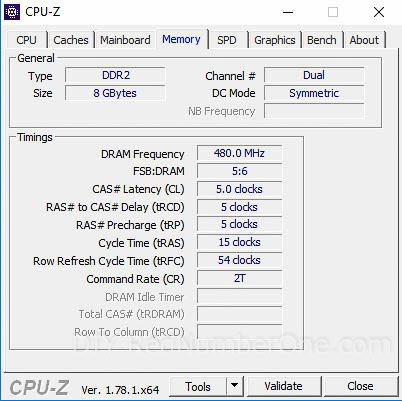 ONLY FOR ABIT IP-35 – Moding the bios – E0
I have modded the last bios(the E0 version) released for this MB, to include only 45nm processors on platform 771, removing the 775 45nm.
This can work with other processors but I have not tested it.
As far as I know, E0 is the last supported stepping on ABIT-IP35.
The last bios that was released for this MB is considered by some to be v18 but that's WRONG. There was an E0 version that included both 775 and 771 CPU microcodes.
These are the microcodes of the original bios: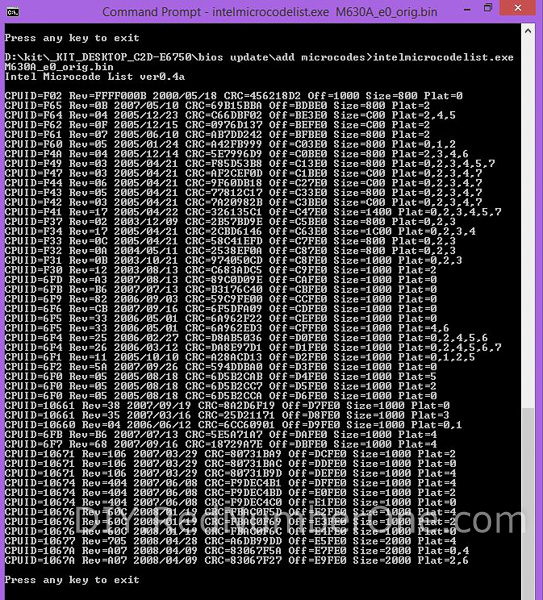 The mod consists of removing the CPUID 1067A – Plat 0,4 – that is 45nm CPUs on LGA775
The modded bios contents: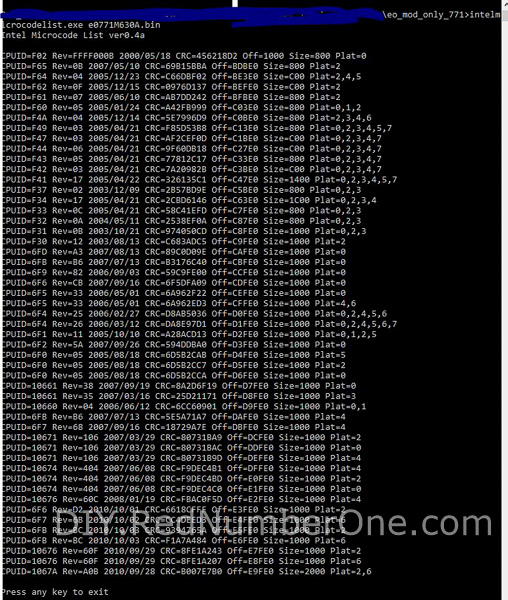 Now only CPUID 1067A is on Plat 2,6 – meaning LGA771 socket and 45nm CPU.
Download modded BIOS
This is the bios file already modded, just needs to be flashed – use only after reading all warnings bellow!
Now, please, PLEASE note that YOU ARE DOING THIS AT YOUR OWN RISK!
YOUR COMPUTER MAY NOT WORK AFTER USING THIS MODDED BIOS.
YOU ARE RESPONSIBLE FOR YOUR OWN ACTIONS!
IF YOU DON'T KNOW WHAT YOU ARE DOING STOP NOW!
THIS BIOS IS ONLY FOR ABIT IP-35 AND MIGHT WORK ON IP35-E(but I'have not tested it on that MB), — IT WILL NOT WORK FOR THE I-P-35 -PRO
Download file: BIOS-E0-771-ONLY-ABIT-IP-35_e0771M630A
If it works, let me know in the comments 🙂
And please Subscribe to my YouTube channel. 🙂
Cheers!